Senior officials from Walton Hi-Tech Industries PLC and Danby Appliances pose for a photo after the virtual signing of a memorandum of understanding for the expansion of its global market in the North American region on Sunday. Photo: Walton

">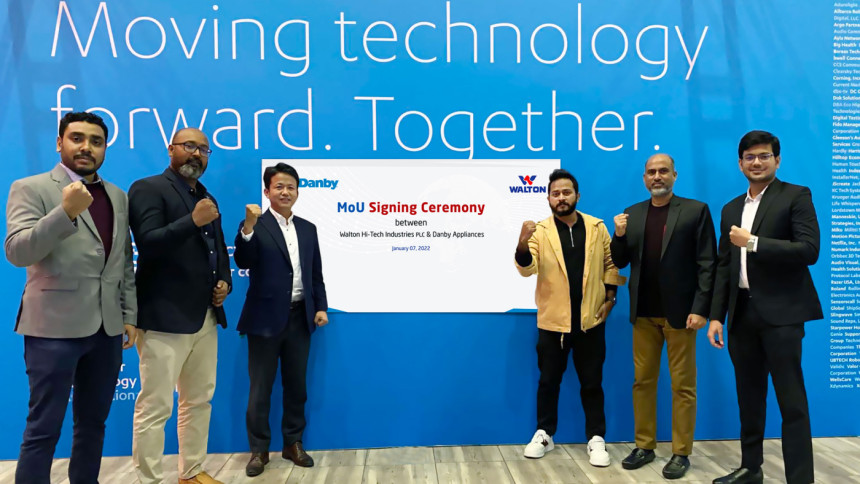 Senior officials from Walton Hi-Tech Industries PLC and Danby Appliances pose for a photo after the virtual signing of a memorandum of understanding for the expansion of its global market in the North American region on Sunday. Photo: Walton
Walton Hi-Tech Industries Ltd, a giant in the local consumer electronics sector, is set to enter the North American market with a delivery of household appliances in mid-2022.
The company signed a partnership agreement with Danby Appliances, a compact appliance brand in North America, to expand the market for Walton-branded products in the United States and Canada.
For all the latest news, follow the Daily Star's Google News channel.
The deal was signed Jan. 7, Walton said in a news release.
"We will supply refrigerators, air conditioners, washing machines, televisions and small appliances to the North American market," said Abdur Rouf, vice president of Walton's global business division.
The company will need to avail itself of the North American standard certification before entering the market and ensure product quality as such, he added.
Walton currently exports its products to more than 40 countries, including Europe, Africa, Asia and the Middle East, according to the press release.
Rouf went on to say that Danby Appliances realized that the Bangladeshi electronics giant is capable of manufacturing home appliances as per their requirements.
"We have therefore agreed to develop and manufacture products to North American standards in conjunction with Danby, who will handle the sales and distribution of Walton products in North American markets," he said. .
A team of senior Walton officials recently visited the "Consumer Electronics Show (CES-2022)," the world's largest technology show held in Las Vegas. This is where a Memorandum of Understanding (MoU) was signed between Walton and Danby.
Edward Kim, president of the global business division of Walton Hi-Tech Industries, and Andrew Raymond, chief financial officer of Danby Appliances, signed the memorandum of understanding.
Golam Murshed, managing director and CEO of Walton, said the partnership will help the company become one of the world's leading electronics brands by 2030.
Danby's President and CEO, Jim Estill, has expressed his desire to collaborate in the manufacture, promotion and distribution of Walton-branded products in the North American region.