Roy Evans (left) and David Astley. Images: Greater Manchester Police.
Two men have been jailed for their role in a multi-million pound conspiracy operation to import and supply Class A drugs.
Roy Evans, 34, of no fixed address, was sentenced on Thursday February 10 to almost 20 years in prison by the Manchester Crown Court.
He was sentenced to 13 years and three months for importing class A and B drugs and six years and six months for possession of two firearms.
David Astley, 35, of Smithy Grove in Ashton-under-Lyne, has already been jailed for eight years.
On May 27, 2020 a large delivery from the Netherlands was made to a unit in Cobden Street in Salford.
Border Force officers, assisted by Salford District Police, intercepted the shipment which contained 50 blocks of heroin, seven blocks of cocaine and a block of cannabis with a street value of £3.4million.
Astley was arrested at the scene and after searching and examining his phone, a cell phone number, later identified as belonging to Evans, was found to have called the phone several times prior to delivery.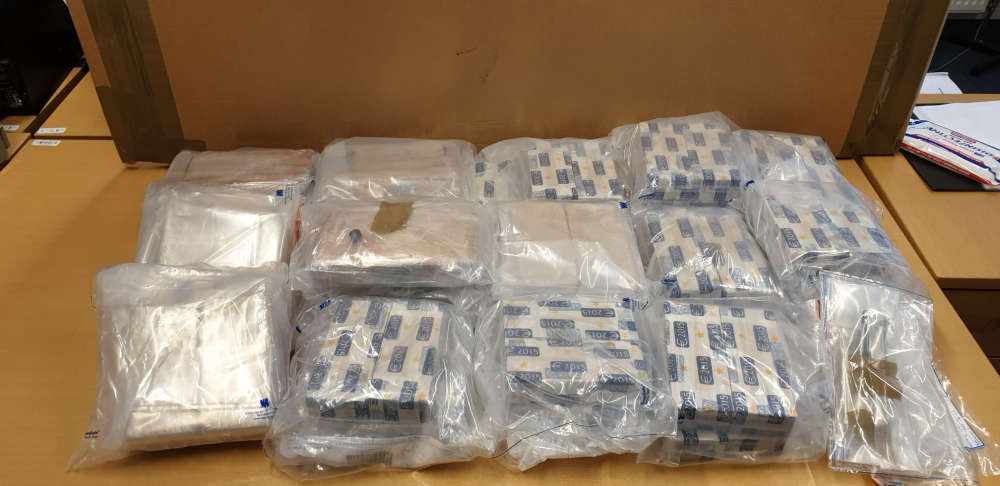 Some of the drugs seized. Image: Greater Manchester Police.
On June 8, 2020, following reports and intelligence that firearms were being stored at an address belonging to Evans' girlfriend in Stockport, Stockport District officers showed up and arrested Evans, seizing two pistols and ammunition, some of which was hidden inside a sock.
Evans' phone was seized and, after detailed examination, was linked to those involved in delivering the drugs the previous month.
Astley pleaded guilty to being involved in the fraudulent circumvention of a ban on importing Class A and B drugs.
Evans was found guilty of being involved in the fraudulent circumvention of an import ban on Class A and B drugs and possession of two firearms and ammunition.
Detective Inspector Rebecca McGuigan, from GMP District in Salford, said: "Today's result is significant, we have succeeded in disrupting the distribution of drugs on the streets of Greater Manchester which could have destroyed relationships and ruining the lives of not only drug addicts, but those engaged in illicit supply chains.
"In addition, two viable firearms and ammunition have been removed from the streets and out of the hands of criminals.
"This type of organized crime will not be tolerated, and thanks to the excellent detective work of officers in several districts, Roy Evans and David Astley have received significant prison sentences.
"I would like to thank all the officers involved for their hard work, in particular Detective Constable Robert Shakespeare from GMP's Stockport District and DC Jon Shaw from GMP's Salford District, who worked tirelessly to link Evans to drug shipment and collecting evidence.
"I hope that sentence makes it clear that criminals cannot do this and expect to get away with it.
"I urge anyone considering participating in this crime to think seriously about the consequences of doing so, because we will find you and hold you accountable."