Pisa Pharmaceuticals has hired Christian Patiño Webb, a former Red Bull marketer, as CEO of Electrolit's "instant hydration" business globally. He will be based in Houston and will report to the Pisa board. His experience in the consumer packaged goods industry includes time at Unilever, Johnson & Johnson and Procter & Gamble. In an interview, Patiño Webb told BD that he expects Electrolit to exceed $1 billion in shipping revenue by early 2024. A third of the company's shipping sales currently come from the United States. He added that the United States could account for $500 million in retail sales by the end of this year and reach $1 billion in retail sales within a few years. In July, Electrolit held around 5 share of the US sports drink market with an all product volume distribution (ACV) of around 50%, according to Patiño Webb. The brand is distributed in 11 countries, from Canada to Chile, with a strong presence in Mexico, where Electrolit was founded in 1950 to combat childhood dehydration and later expanded to focus on rapid hydration for athletes. "I see this brand growing globally in the next three to four years, if not sooner," said Patiño Webb. Electrolit was introduced in 2015 in the United States, where Pisa initially focused on markets with a high concentration of Hispanic consumers.
U.S. DISTRIBUTION UPDATE. The brand is now distributed in more than 65,000 retail accounts in the United States, up from 30,000 two years ago, Patiño Webb said. Approximately 65% ​​of this distribution is via direct store delivery (DSD), including Big Geyser in New York. "I've known that since my Red Bull days," he said. "The name of the game is going to be to grow as much as possible with DSD as we can reach more stores and provide better service to our customers." Retailers include Walmart, Kroger, HEB and 7-Eleven. The brand is in about half of Walmart's 4,700 stores in the United States, with more to come, Patiño Webb said. The brand is also in talks with Target and Costco.
BRAND REFRESH. In the year ending August 7, Electrolit held a $3.4 share of the sports drink category in the United States and was No. 4 behind Gatorade (65.5), BodyArmor (16.6 ) and Powerade (12.4). Electrolit is sold in a square, medicinal-looking bottle similar to the shape of Pedialyte children's rehydration drink from Abbot Laboratories. An 8 oz serving of Electrolit contains more potassium and sodium than even a 12 oz serving of Gatorade or Powerade. Electrolit retails in the United States at $2.99 ​​for a 21 oz bottle. The product is offered in a single 21 oz bottle and in six packs of the same bottle. The range includes nine flavors. Gatorade launched a competing product called Gatorlyte in early 2021. Electrolit sued Gatorade owner PepsiCo to stop the launch, claiming Gatorlyte violated Electrolit's trade dress. Companies settled in and Gatorade made changes to their package. Meanwhile, Coca-Cola's Powerade brand plans to have its own "quick restock" product.
The following questions and answers have been edited for length and clarity:
comics: What lessons will you bring to Electrolit from a world power like Red Bull?
CPW: The three main lessons learned at Red Bull that I look forward to bringing to Electrolit are, first, to create a global brand with a local face. The way you see Red Bull in Brazil or Japan, or here in North America, it's exactly the same, and the execution is the same. But how they communicate with the consumer has local relevance. The second is to build or grow the Electrolit brand from a great product to a lifestyle brand. Within CPG, Red Bull is perhaps the strongest lifestyle brand. The third is to be nimble and non-traditional, paying a lot of attention to the consumer and acting quickly. If it takes you two or three years to launch the innovation, you will lose market share every month.
comics: What does it mean for Electrolit to be a lifestyle brand?
CPW: Investing heavily in content and being truly a lifestyle brand means a brand that consumers are proud to wear, proud to use, proud to share, proud to talk about with their friends, rather than just a quality product. If you have new sports equipment or something really cool like a motorcycle, that's something you want to show off to your friends. It's about understanding the consumer and having a really strong story to tell the cult that will be your loyal fan base. You can bring that to life with social media, influencers, advertising, content, athletes, and whatever you want. But it starts with having a purpose and really understanding your consumer.
comics: Do you already have this message and purpose or is it in development?
CPW: You will see this come to life next year.
comics: The presence of Electrolit in the United States was built largely on the Hispanic market. How important is this demographic of consumers when it comes to driving growth?
CPW: The brand started in 1950 in Mexico and came to the United States in 2015. In the first two or three years in the United States, the goal was obviously to stimulate distribution in Hispanic accounts and to speak to this Hispanic audience. In recent years, the approach from a communications and marketing perspective has been an entirely general market, not using Spanish at all, being truly a general market brand. The demographic makeup of Electrolit's buyer base is a little higher on Hispanics, but there is a very large percentage of African American and Caucasian consumers who buy the brand. We're seeing that traction in markets like the Northwest, Seattle, and Oregon, and in markets like Idaho, the Midwest, parts of Georgia. We're getting a lot of traction in Florida and Texas. Obviously you have high percentages of Hispanic consumers there, but we're also seeing high penetration with other demographics. So the brand at this point is already a mainstream brand. What really matters to the consumer is hydration performance and taste. And we're doing a great job on those two, and the sky's the limit.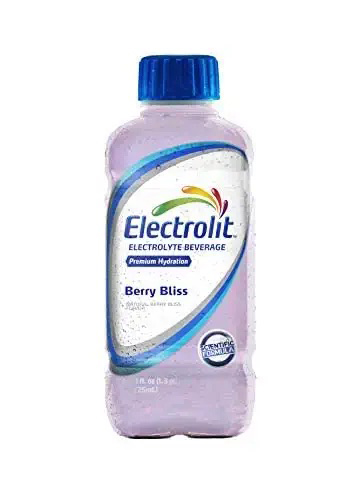 'DNA' PHARMACY
comics: Electrolit has differentiated itself as an "instant hydration" product in a market dominated by Gatorade, Powerade and now BodyArmor. Is there room for you and why?
CPW: Consumers are looking for instant hydration. And we were one of the pioneers in this segment, offering premium ingredients and a scientific formula. The category follows us, like Gatorlyte. We even had legal conversations with them. When the boss copies you, that means you're doing something right, right? The magic formula doesn't just add more electrolytes. It is the proper balance of these electrolytes that will provide the best performance for your body. And the glucose we use is medical grade glucose. It is a very expensive ingredient, it is not easy to use. Most of our competitors use a cheaper quality sweetener that doesn't necessarily work as effectively as glucose. Glucose brings energy back faster, provides that instant hydration faster, and helps move all the electrolytes in your body. Our DNA is part of a pharmaceutical company. We manufacture in a pharmaceutical grade facility. It is very expensive to produce this in a pharmaceutical facility, a pharmaceutical grade facility. But we know that the consumer sees this benefit and comes back to us.
comics: Are you in an investment phase in terms of pricing? Are you able to recoup that higher manufacturing and ingredient cost and earn an appropriate margin?
CPW: We are in a very privileged position because we are part of a pharmaceutical company, privately owned by a family. They are in a very good financial position. We don't have a single debt. By the time we invest in new manufacturing lines, which we plan to build soon in Texas, we essentially recoup that in about three years. It is extremely profitable.
"AGGRESSIVELY INVESTING IN PRODUCTION"
comics: Are you increasing production capacity?
CPW: We invest heavily in production. We manufacture everything in Mexico on high-end robotic manufacturing lines. We are increasing our capacity in Mexico and we are investing in the United States to have our first manufacturing plant outside of Mexico, in Texas. It will open in two to three years to serve the North American market and new geographies.
comics: An influx of marketing dollars into the fast hydration segment from market leaders like PepsiCo's Gatorade and potentially Coca-Cola's Powerade at some point isn't a bad thing, is it? not ?
CPW: This helps us enormously. For example, we launched in Canada last year and Gatorlyte followed us this year. And that helps us, one from the consumer's point of view and two from the buyer's point of view. From a consumer perspective, the consumer understands that there is something better for them than traditional brands with more calories and bad ingredients. And then buyers understand that there is a new opportunity in the white space category to offer better products at a higher price. Even Pepsi's Gatorlyte is way more expensive than a traditional Gatorade. So overall, it helps us continue to get more shelf space and get a higher priority for this premium segment within the category. Obviously, we have to keep challenging ourselves and bringing more innovation, doing a better job with our customers, providing better service, etc. And better market our market brand. But overall, I think it's good news.