By Chrishanthi Christopher
Views) :
Laugfs gas, the duopoly partner in the country's cooking gas supply, announced yesterday that it will resume supply today. Its managing director, WHK Wegapitiya, said a gas shipment of 3,500 MT was due to arrive yesterday and urgent arrangements would be made to supply customers who have been waiting for gas for months.
The company had not supplied gas for months, mainly due to shortages of US dollars, while rival Litro struggled to meet growing daily demand.
Disgruntled customers had nearly abandoned the business and many demanded their cylinder deposits. Laugfs Gas has assured its customers that from now on gas will be supplied without interruption.
Wegapitiya said the company's talks with the Central Bank had been successful and it had been promised a steady flow of US dollars for imports.
"The Central Bank Governor is understanding and knows that gas supply is an essential service," he said.
The shipment received yesterday would ease the burden on the main supplier, Litro Gas. Laugfs Gas holds 30% of the customers. For the people, it was good news that Laugfs Gas resumed supply today. Most households in Colombo had invested in two gas cylinders, one from each company.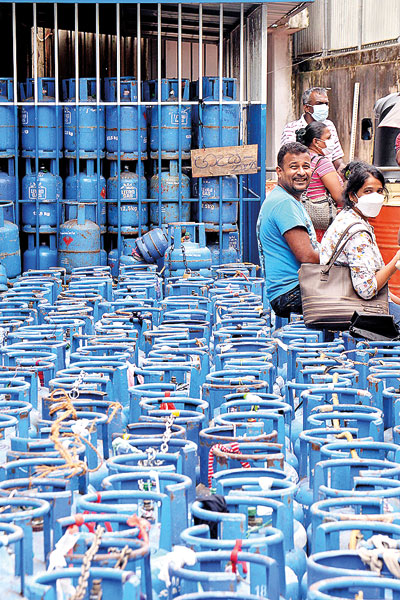 "The ability to use either would be a blessing," said a housewife as she pulled the discarded yellow cylinder out of the storage room.
Meanwhile, Litro, which had been supplying gas continuously for three days, announced yesterday that it would not supply gas yesterday and today. On Friday, the company said it had run out of stock and supplied just 16,000 bottles, which were distributed to customers in Colombo. People queuing for gasoline in Mattakuliya would go crazy when the bottles were turned over unexpectedly, despite people having been waiting for a long time since dawn.
In Kirulapana, to buy gas, people had to produce their utility bills as proof of residence in the area. Litro had announced that a gas cargo of 2500 MT was due to arrive today.
However, people continued to queue despite the pouring rain in hopes of getting a bottle of gas. Long queues were seen in Badulla, Batticaloa, Kalutara and Baddegama, with some complaining that they had not received cooking gas for months.
The best way to say you've found your dream home is to find it on Hitad.lk. We have listings for apartments for sale or rent in Sri Lanka, whatever location you are looking for! Whether you live in Colombo, Galle, Kandy, Matara, Jaffna and more – we have them all!